Southwest Florida is famous for its warm, sunny weather and peaceful sandy beaches, and because of this, real estate in the Sunshine State is booming. People are flocking from across the country to buy luxury homes in destinations like Naples and Ft. Myers, where the sun is always shining, and the taxes are low.
Residents in Southwest Florida know the best local spots to order pizza that's piping hot and packed with fresh ingredients. Here are some restaurants between Naples and Fort Myers that serve the best pizza in the state.
Mister O1 Extraordinary Pizza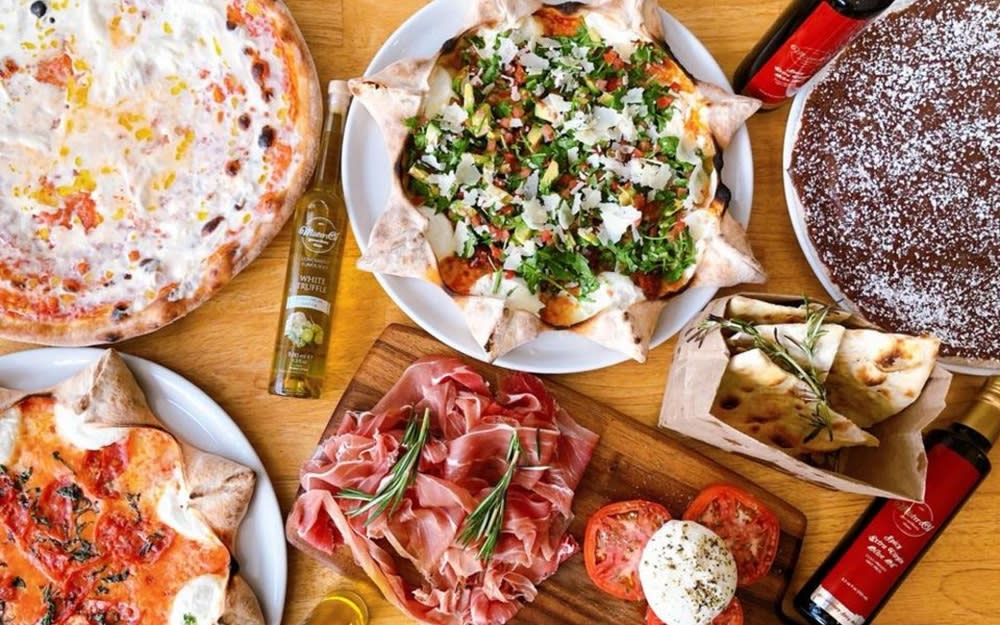 Even though pizza shops are a dime a dozen, everyone knows that all pizzas are not created equally.
Mister 01
has self-proclaimed that their pizza is "extraordinary," and the restaurant's loyal customers enthusiastically agree. Established in 2015, Mister 01 Extraordinary Pizza prides itself on being a modern and trendy pizzeria that serves authentic Italian pies.
The founder of Mister 01 came to the United States on a Visa 01, which meant that he'd proven to have extraordinary talent. In this case, and to our delight, his talent was creating the most delicious and authentic pizzas in Florida. Today, the restaurant maintains its high pizza standards by importing flour from Italy and cooking with only the freshest ingredients. Each pizza is handmade from scratch without adding any sugar or preservatives to the sauce.
Stop by and try the Star Luca, a star-shaped pizza filled with creamy ricotta cheese, spicy salami calabrese, mozzarella, Italian tomato sauce, and fresh basil. If you're in the mood for a truly authentic Italian dish, order a burrata with toppings like Italian balsamic glaze or white truffle oil.
Mr 01 Extraordinary Pizza has locations throughout Florida and across the pond in Madrid, Spain, and Riyadh, Saudi Arabia. Luckily, there's a Mr 01 in Naples, near the finest luxury neighborhoods in the state. The restaurant offers pizzas made with gluten-free vegan crust and cauliflower crust at no additional charge for people with special dietary needs.
Fine Folk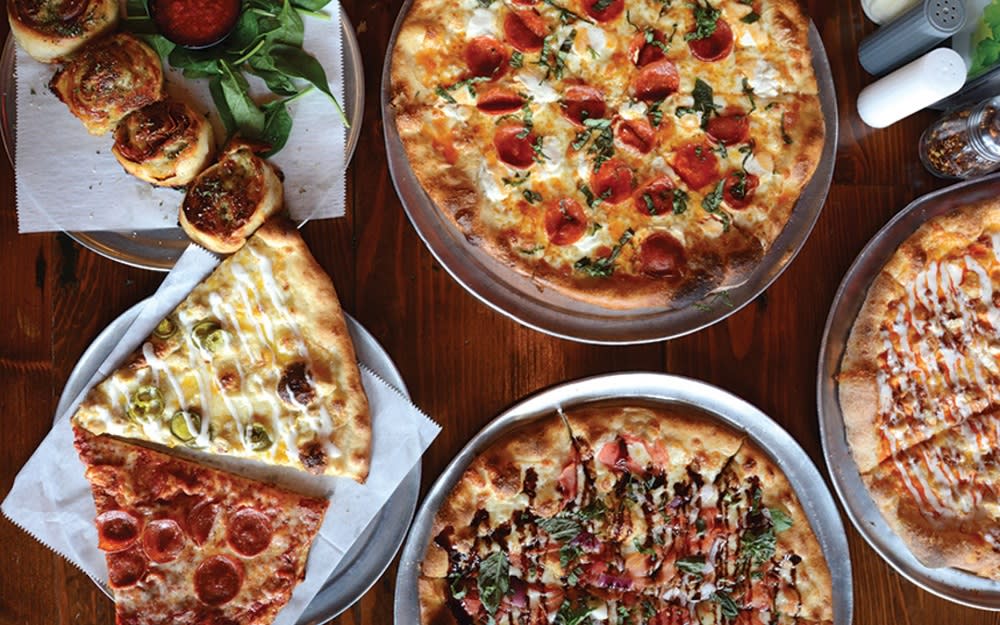 Photo Courtesy of Pizza Today
Fine Folk
is family-owned and operated and is deeply involved in the community in Ft. Myers, FL. With 30 different specialty pizzas and an entirely vegan menu, this restaurant offers a handcrafted artisan pizza for every palette. Fine Folk has impressively won two major national awards for having the best non-traditional pizza, including the Caputo Cup in 2018 and 2019. Its sister restaurant in New Jersey also won the best Boardwalk Pizzeria in the entire state for its famous cheese pizza.
Fine Folk makes its award-winning pizza dough using a 72-hour double rise cold fermentation method and tops each pizza crust with only the finest ingredients. Try the pretty fly for a fungi vegan pizza and eat it al fresco at one of the restaurant's outdoor tables. Fine Folks' certified pizza acrobats will come to your table to teach you how to flip pizza dough while you wait. Kids especially love this trick, and the restaurant's acrobats were even featured on America's Funniest Home Videos when a little girl had a pizza dough land hilariously on her head. The restaurant also offers a unique make-at-home pizza kit.
Everyone will have fun creating a Fine Folk's artisan-style pizza when you bring a kit to your luxury home in Ft. Myers.
LowBrow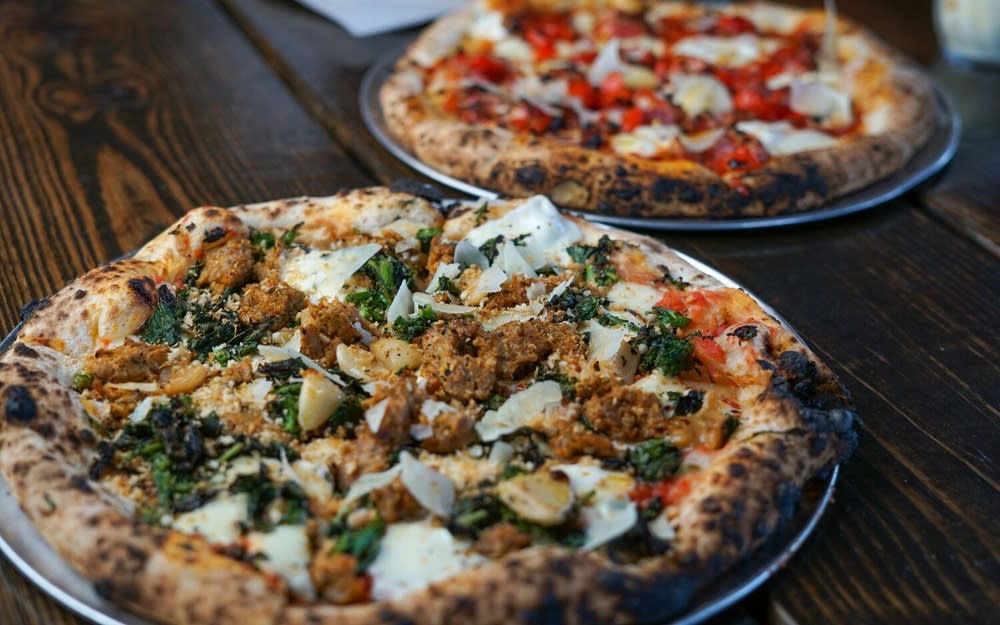 LowBrow
is a reasonably young pizzeria that's taken the city by storm. Residents in Naples and tourists alike rave about the restaurant's 12-inch pizzas that are wood-fired to crispy perfection. The restaurant proclaims to be "serious about pizza and beer — and nothing else," and it shows. Their crusts are naturally leavened and are made with only the simplest ingredients: flour, salt, and water.
Each pizza is made with fresh ingredients from scratch and is hilariously named. Try ordering pizzas like the Facemelter or pepper-bro-ni, or ask for a side of taters gonna tate without cracking a smile. The restaurant prides itself in serving mouth-watering pizzas in a lively atmosphere complete with live music and plenty of fun. In fact, they host a variety of special events throughout the year that make eating pizza extra fun.
If you're ready to enjoy a delicious pizza in a fun and lively restaurant, try LowBrow's. The restaurant recently celebrated four years of making delicious pizzas in Naples, and with its increased popularity, LowBrow isn't going anywhere anytime soon.
Mellow Mushroom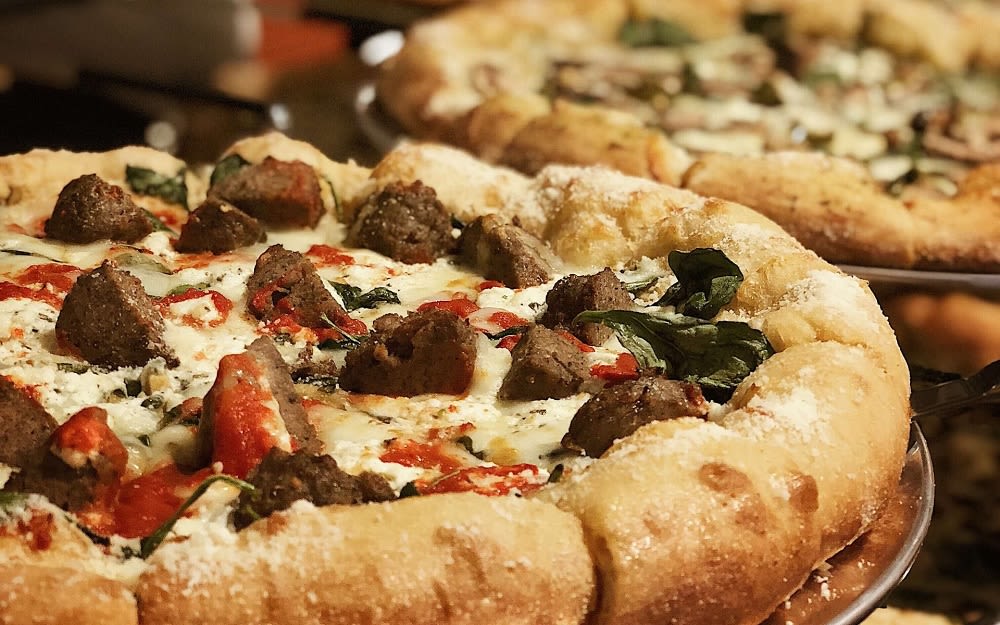 If you like modern art and fantastic pizza, Mellow Mushroom may be a perfect fit. This restaurant is a well-established franchise founded in 1974 in Atlanta, GA. For over 40 years, each Mellow Mushroom location remains locally owned and operated, and the franchise claims to make the "best pizza on the planet."
Mellow Mushroom
's mission is to create delicious food in an environment that's fun and creative, and they successfully hit the mark on both fronts. Each hand-tossed, stone-baked pizza is topped with high-quality, fresh ingredients, and each one is made with a spring water crust.
The Signature Mellow Dough is made with the finest variety of unbleached wheat flour, Appalachian spring water, and no refined sugar. The sauce is made with hand-selected tomatoes picked and processed hours after they've been harvested. No additives or preservatives are used when making the pizza sauce. Meat is 100% natural, without additives, preservatives, hormones, or steroids. Cheese is aged perfectly and always fresh.
Mellow Mushroom is a restaurant that cares deeply about the environment. The restaurant's pizza boxes are crafted to have a negative carbon footprint and are made from 100% recycled material. Even better, the restaurant's napkins and cups are made from 100% recycled products.
Many residents visit the restaurant's two locations in Estero, FL, where luxury homeowners grab dinner after a long day of work. Stop by for a cosmic karma pizza topped with Mellow red sauce, authentic sheep's milk, feta cheese, spinach, sun-dried tomatoes, mozzarella, and roma tomatoes, and wash it down with a house-made margarita.
Grandpa's Pizza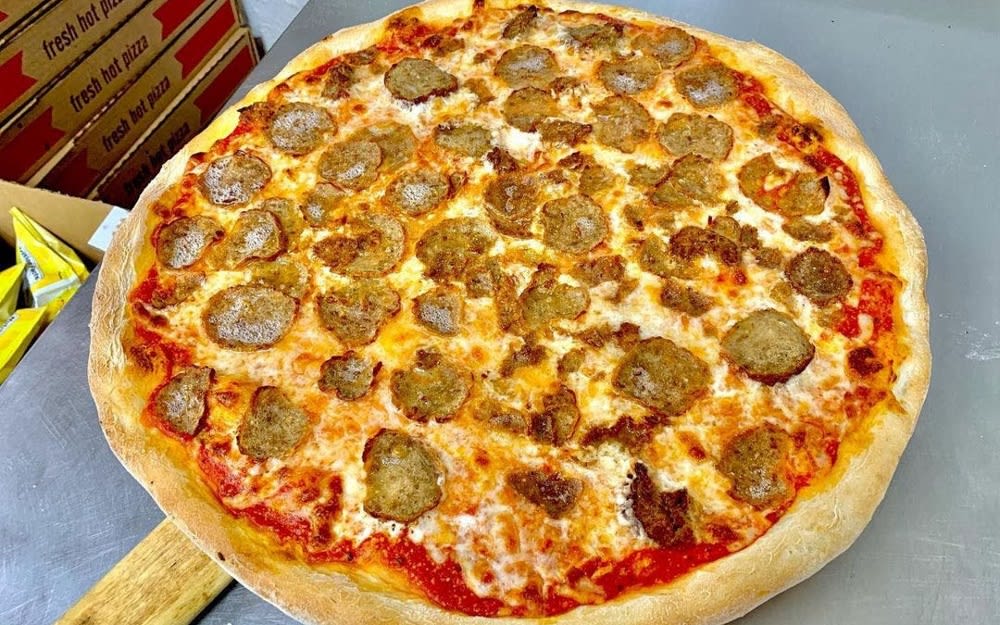 Grandpa's Pizza
is a family-owned restaurant located in Bonita Springs, just north of Naples, FL. The restaurant claims to serve the "best real Italian pizza in Southwest Florida," and they're not lying. Each sub roll, lasagna, and pie is crafted from scratch with fresh, local ingredients purchased daily. The restaurant uses traditional family recipes to create mouth-watering pizzas that keep customers coming back week after week.
Recently, Dave Portney of Barstool Sports Review visited Grandpa's Pizza to give his "One Bite Review." Portney gave the restaurant an impressive 7.8, making it clear that Grandpa knows best when it comes to pizza.
Order a traditional, gourmet, or Sicilian pizza and put your Grandpa's Pizza to the test with your own "One Bite Review."
Ninos Pizzeria and Restaurant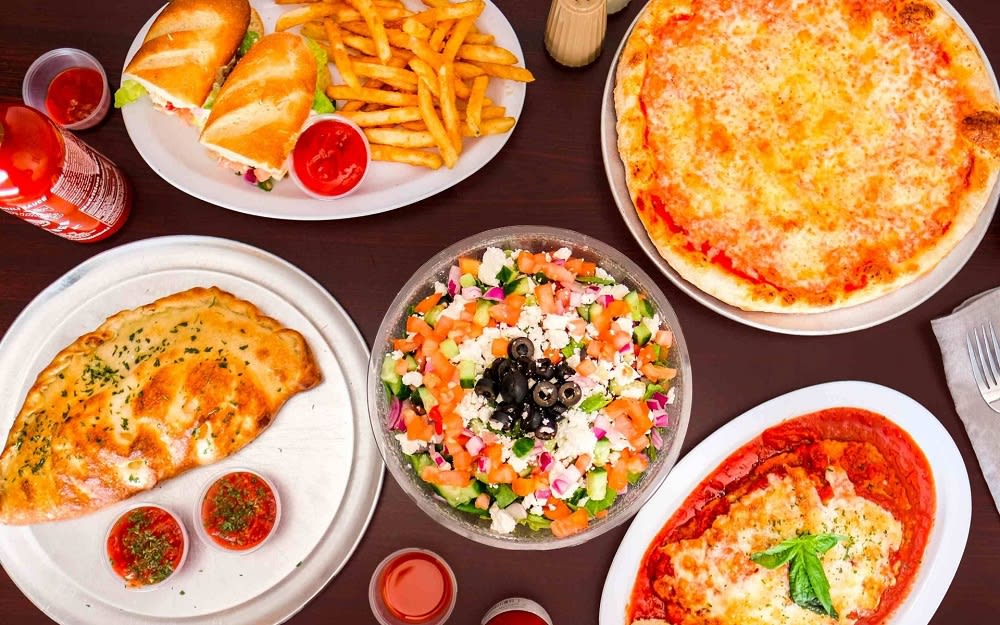 Photo Courtesy of Postmates
For over 40 years, Ninos Pizzeria and Restaurant has served classic Italian dishes and pizzas to locals in Ft. Myers. The restaurant offers both thick Sicilian and thin-crust pizzas along with a variety of fresh toppings. Pair your pizza with some homemade garlic rolls and a salad, and you'll understand why Ninos Pizzeria is one of the best pizza spots Between Naples and Ft. Myers, FL.
Ninos Pizzeria opened its doors in 1979 when Tony Scaduto decided to make and sell pizzas using old family recipes. His business took off, and now, over 40 years later, his nephew Giuseppe (Joe) Ciancimino is the full owner of the business. If you're craving traditional Italian pizza, try the deluxe five topping pizza, or take a chance and order Ninos Hawaiian pizza.
Whether you think pineapple belongs on pizza or like to pile on all the toppings, everyone knows a good pizza starts with quality ingredients and a made-from-scratch crust. Southwest Florida is filled with all kinds of amazing restaurants to try, and the pizza scene is top-notch. Just like the Florida sun, the picturesque beaches, and the magnificent luxury homes, Southwest Florida pizza is simply one-of-a-kind.
If you'd like to look at
Naples properties
and luxury homes in Ft. Myers, trust your real estate journey in the expert hands of
The Guillette Group
. They'll help you find the perfect luxury home so that you can enjoy upscale Florida living and perfectly delicious pizza year-round.