While the majority of the United States spends the months from October to April bundled up, Southwest Florida communities like Naples, Fort Myers, and Estero enjoy nearly flawless weather. The winter months are relatively dry in Southwest Florida, and temperatures range from the upper seventies during the day to around sixty degrees at night. It's an ideal time to get out and discover all that the Sunshine State has to offer. Luxurious shopping, dining, and real estate can be found up and down the Gulf Coast, and the area is best enjoyed during the holiday season.

The balmy fall and winter climate also present the perfect time to visit your favorite local farmer's market. Though not widely known as farming communities, Collier County and Lee County are a lush corner of the state's agricultural scene. You're never too far from fresh, locally grown Florida produce, and it's much more than just citrus.

With a growing season that never ends, Floridians have access to an abundance of fruits, vegetables, and herbs, as well as local sources for meat, dairy, and, of course, seafood. The real luxury is that much of this bounty is easily accessible at one of Southwest Florida's many farmer's markets. You'll find that one of the region's most satisfying luxuries is supporting local producers, and eating their delicious produce.

Below are seven farmers' markets in Southwest Florida to check out this fall.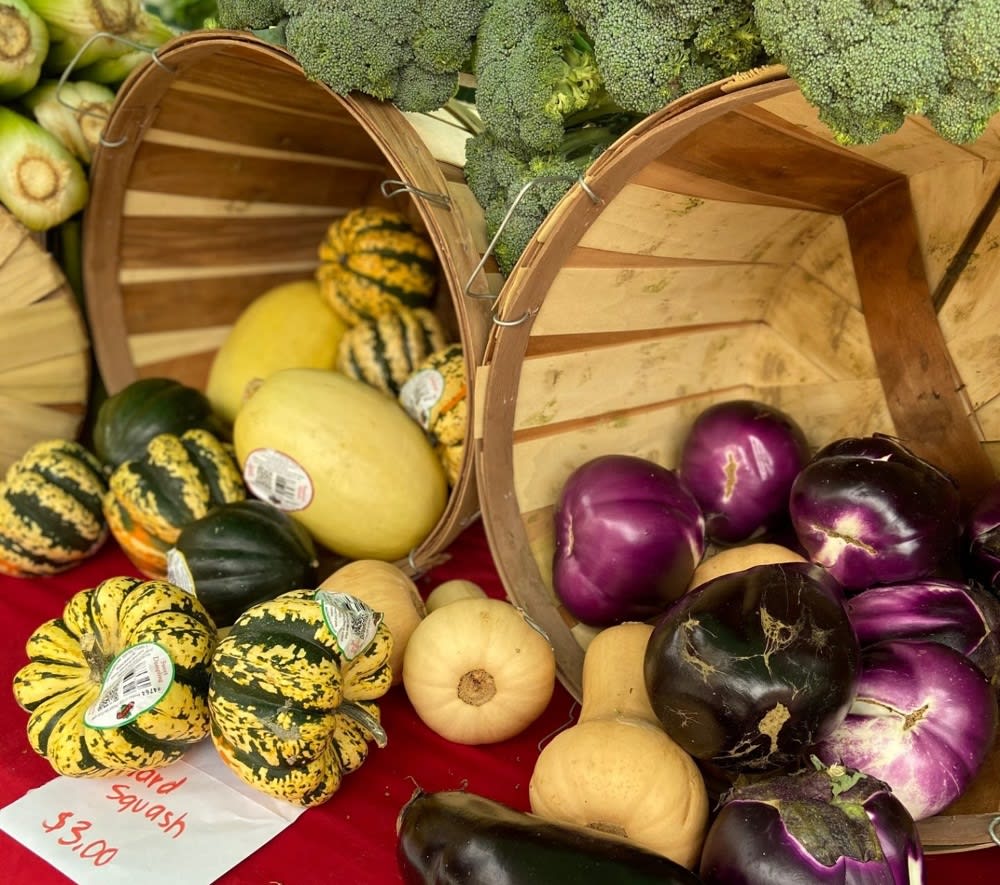 Image: Ave Maria Farmer's Market
5076 Annunciation Circle, Ave Maria Town Center, Ave Maria
Saturdays, 9:00 a.m. - 2:00 p.m.
November 6, 2021—April 30, 2022
Originally founded in 2005 as one of Florida's newest master-planned developments, there's a lot going on in Ave Maria. The community already claims two championship golf courses, Ave Maria University, an ever-expanding dining and retail district, and five distinct neighborhoods.

There are few better ways to meet your neighbors than with a seasonal farmer's market. Open to the public, the Ave Maria Farmer's Market takes over the town square every Saturday from late fall into early spring. The market gets underway at 9:00 a.m., with live music starting at 11:00 a.m. and running until the market closes at 2:00 p.m.

Put on by SW Florida Markets, Ave Maria's market is always a well-attended event with a wide selection of fresh local produce, fresh seafood, local honey, and regionally produced candles, clothing, crafts, and jewelry.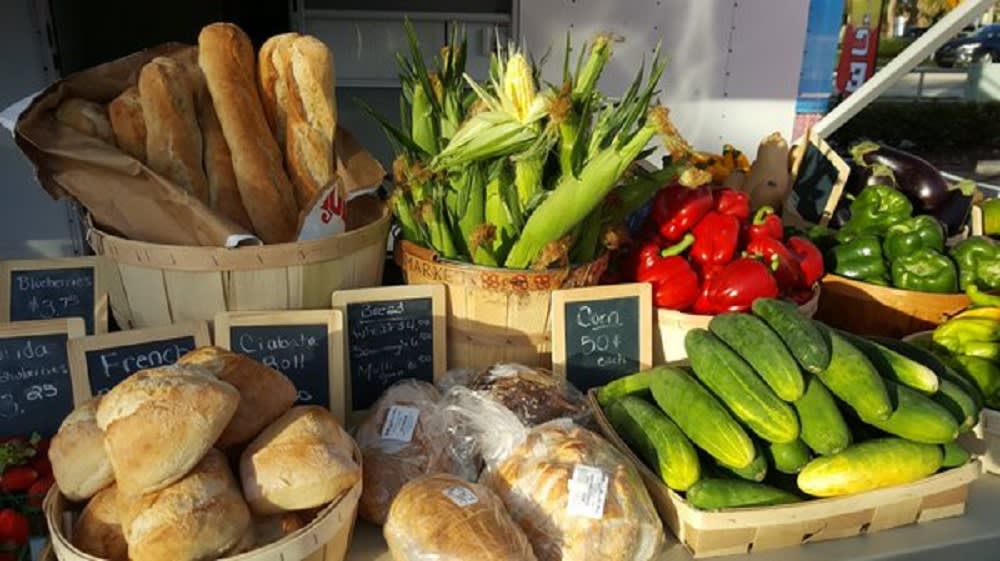 Image: Shop Local Productions
130 Connecticut Street, Beach Baptist Church, Fort Myers Beach
Wednesdays and Fridays, 8:00 a.m. - 1:00 p.m.
Beach Baptist Farmer's Market on Facebook
Since 2015, Shop Local Productions has managed the Wednesday / Friday Beach Baptist Farmers Market. They also oversee the Santini market (detailed below). For its part, the Beach Baptist market features more than 40 vendors ready to satisfy a big appetite or help you source the ingredients for dinner. Market highlights include fresh produce, locally sourced seafood, and a number of specialty foods and products, including Guatemalan Coffee, Cuban Sandwiches, CBD products, barbecue, jewelry, and beauty products.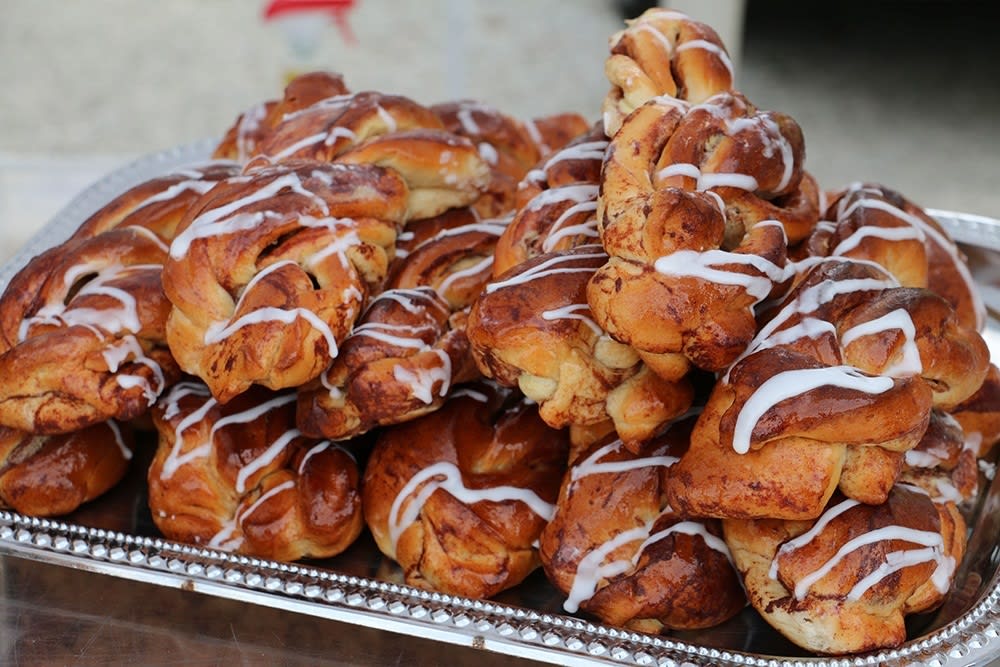 Image: Local Roots Farmers Markets
26795 S Bay Drive, The Promenade at Bonita Bay, Bonita Springs
Saturdays, 8:00 a.m. - 12:00 p.m.
October—April 2022
Bonita Spring Farmer's Market on Facebook
Until this season, the Bonita Springs Farmers Market dealt exclusively with food. Located at The Promenade Shopping Center, the market offers a treasure trove of locally grown, caught, and crafted items. The fruits, vegetables, seafood, pastries, and jams are each worth a taste. Several vendors also offer prepared food and beverages—should you get hungry while perusing the market.

For the 2021-2022 season, Bonita Springs is inviting several local artists and craft vendors to expand the market's non-perishable offerings. This self-proclaimed green market is a rain or shine event, and thankfully, there's more of the latter than the former this time of year. It's also dog friendly, though your pup is expected to be kept on a short leash.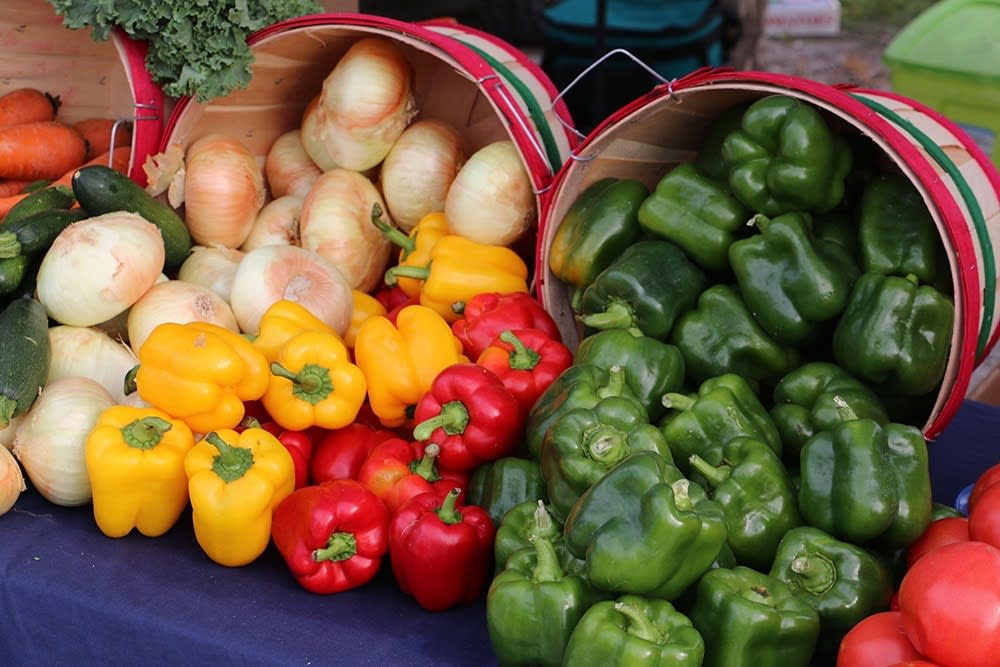 Image: Local Roots Farmers Markets
23106 Fashion Drive, Coconut Point Mall, Estero
Thursdays, 9:00 a.m. - 1:00 p.m.
October—April 2022
Coconut Point Farmer's Market on Facebook

Thursdays may not be what most think of as a prime time for farmer's markets, but with the weekend closing in, knocking out your meal prep purchases early is always a winning choice. One of the top Thursday markets is also one of the most strategically located. The Coconut Point Market sets up in the Panera Bread parking lot at Coconut Point Mall every Thursday from October to April.

A sibling market to the Saturday Bonita Springs event, both are managed by the Local Roots Farmers Markets, which oversee a total of nine farmer's markets. Like Bonita, Coconut Point features a vast selection of local produce, flowers, honey, and seafood. Unlike Bonita, it also features a wide selection of handcrafted items, including candles and soaps. Dogs are welcome, but the short-leash/good-manners rules apply.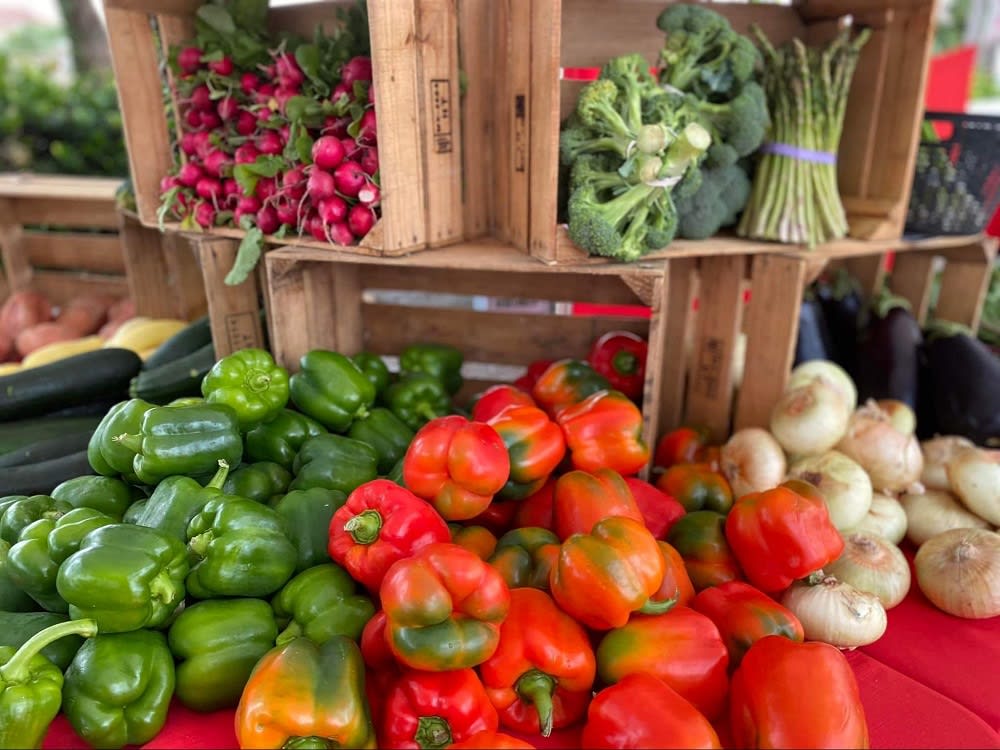 Image: Miromar Outlet
10801 Corkscrew Road, between Ford's Garage and Naples Flatbread, Estero
Fridays, 9:00 a.m. - 1:00 p.m.
Open year-round
Farmer's Market at Miromar Outlets on Facebook

The region between Fort Myers and Naples is a shopping mecca. And few places offer a better experience than the shops and stores of Miromar Outlets. Located in the geographical heart of the region, the Estero-based mall features more than 100 stores, restaurants, and entertainment venues to keep the fun going from open to close.

Every Friday, in the parking lot between Ford's Garage and Naples Flatbread, that local fun includes the Outlet's farmers market. In addition to produce, the market brings in vendors selling bread and pastries, honey, pickles, and some outstanding international flavors, including empanadas, tamales, guacamole, and salsa. Patrons also have the opportunity to grab VIP savings discounts to their favorite Miromar Outlets stores.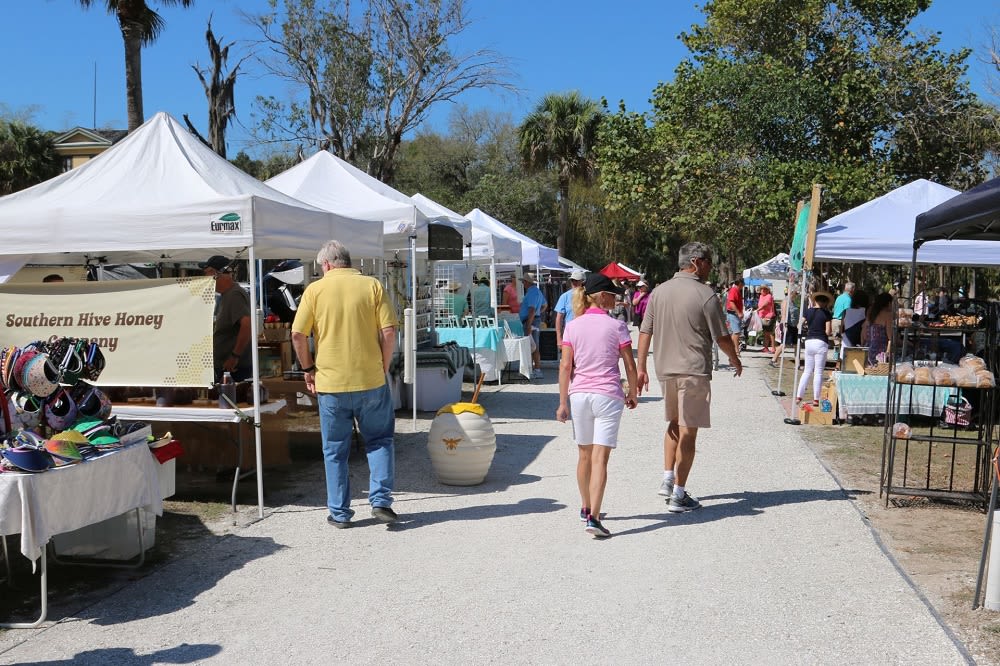 Image: Friends of Koreshan State Park
3800 Corkscrew Road, Koreshan State Park, Estero
Sundays, 8:00 a.m. - 1:00 p.m.
Open year-round
Koreshan State Park Farmer's Market on Facebook

The Koreshan State Park Farmers Market in Estero is a unique gem in Southwest Florida. Unlike most markets that pop up in retail parking lots, Koreshan features prominently in one of Southwest Florida's most historic and popular state parks.

Shut down in 2020 at the height of the COVID-19 pandemic, the Koreshan market—which had been going strong since 2015 — took an unexpected hiatus, with an uncertain return date. That return finally arrived in August 2021. The market has added more vendors to its roster over the intervening months and regained its status as a favorite spot for local residents.

While you will need to pay a park entrance fee of $5 per vehicle, it's well worth it. Beyond the market, which features local produce, honey, spices, and various booths of arts, crafts, and clothing, you have access to a living, breathing museum detailing what life was like in this part of Florida over 100 years ago.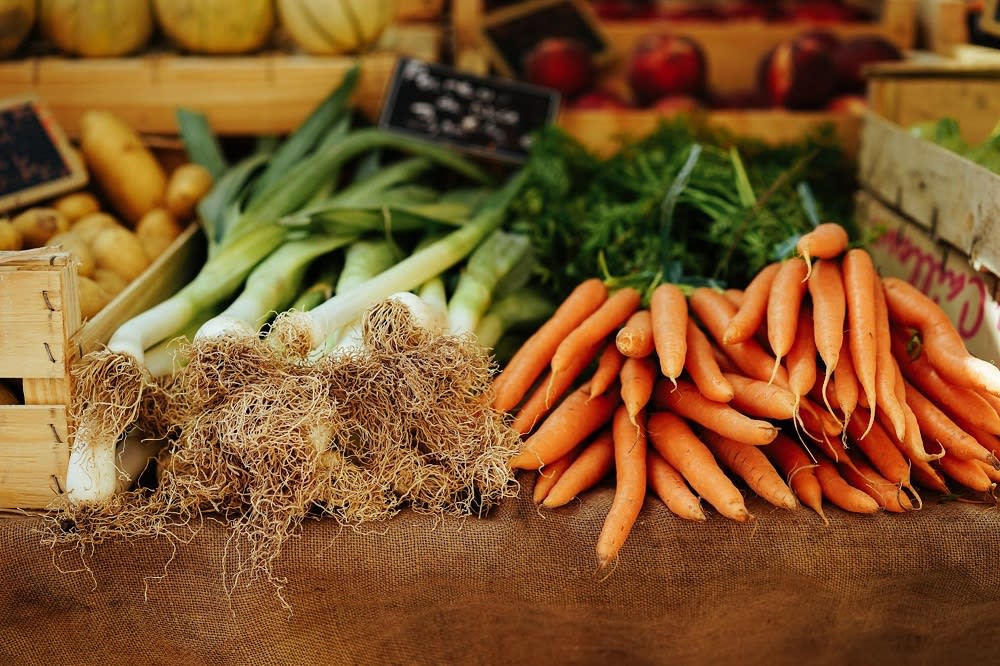 7205 Estero Boulevard, Fort Myers Beach
Tuesdays and Thursdays, 8:00 a.m. - 1:00 p.m.
Mid-November—April 2022
Santini Farmer's Market on Facebook

Shop Local Productions' Santini Farmer's Market (like its sibling market, Beach Baptist) is located in Fort Myers Beach and serves the Tuesday/Thursday crowd. The most established of Shop Local's three markets, Santini has been a staple on Estero Island for more than a decade. The twice-weekly market sets up in the Santini Marina Plaza and always features a healthy list of vendors. You'll never walk away empty-handed from this market, one of the first established in Southwest Florida.

You'll find many of the same staples here as you will at the Beach Baptist market, although Santini does boast an emphasis on its fresh fruits and vegetables, with a sizable stationary produce stand. Baked goods also feature heavily, with some of the best vendors in Fort Myers and Naples showing up to impress attendees' taste buds.
Exploring homes for sales in Southwest Florida?
Contact The Guillette Group today to start your real estate journey in Southwest Florida. Whether you're in the market for something new, or you're looking to sell your home, let The Guillette Group's years of experience guide your search for luxury real estate in Collier County or Lee County.