Whether you're purchasing a vacation home for a Floridian getaway, downsizing after becoming empty-nesters, or searching for more space, it's important to find a property that fits your needs. Too much, and you'll have more square footage in your home than you care to maintain. Too little, and you'll feel cramped. Let's take a closer look at how to find
Miromar Lakes Real Estate
you love.
Tips for right-sizing
1. Consider your lifestyle
Miromar Lakes has it all. Whether you want to go big or cozy up at a condo, you'll find properties of all sizes here. If you've purchased a coach home here to visit on vacation but can't seem to stay away from our vibrant community, moving up into a large home might be the right move for you. However, if you've slowed down recently, opt for a single-level property or a condo with an elevator to make coming and going easy.

2. Explore a range of estate options
This esteemed community is highly sought-after for its upscale amenities, close-knit community, park-like setting and can't-be-beaten climate. There is a large variety of property options and price points, beginning in the $400,000 range and with many moving well into the seven-figures. The design concept behind Miromar Lakes is to make you feel like you are on vacation from the time you pass through the gates, and living here is a lifestyle investment.


3. Determine your motivation
There are countless reasons you might be ready to move, but understanding why you're looking for a new place is the most important step to finding the right fit. Otherwise, you might find that your new property still doesn't meet your needs.

Think about how you're utilizing your current space and take time to reflect on your typical routines. Which rooms do you spend the most time in? This will determine the amount of space you want to dedicate to that purpose in your new property. If you're an avid home chef, a spacious kitchen is in order, or if you're a die-hard movie fan, consider a widespread living area.

Additionally, consider how you plan to use the home moving forward. If you're a world-traveler with long trips planned in the next few years or an outdoors enthusiast who spends the weekends driving up and down the coast, you might want to consider a smaller home. Alternatively, if you want to host large gatherings, you'll need the additional space.

Of course, don't forget to consider what you like. If you love sprawling floor plans but can't use the stairs, shop for single-story homes. Don't have a green thumb, but want your property to have exceptional curb appeal? Great news, all landscaping is maintained by the HOA in Miromar Lakes.

Not sure where to start? Here are a few examples of reasons you might upsize or downsize.
Reasons to Upsize Your Miromar Lakes Home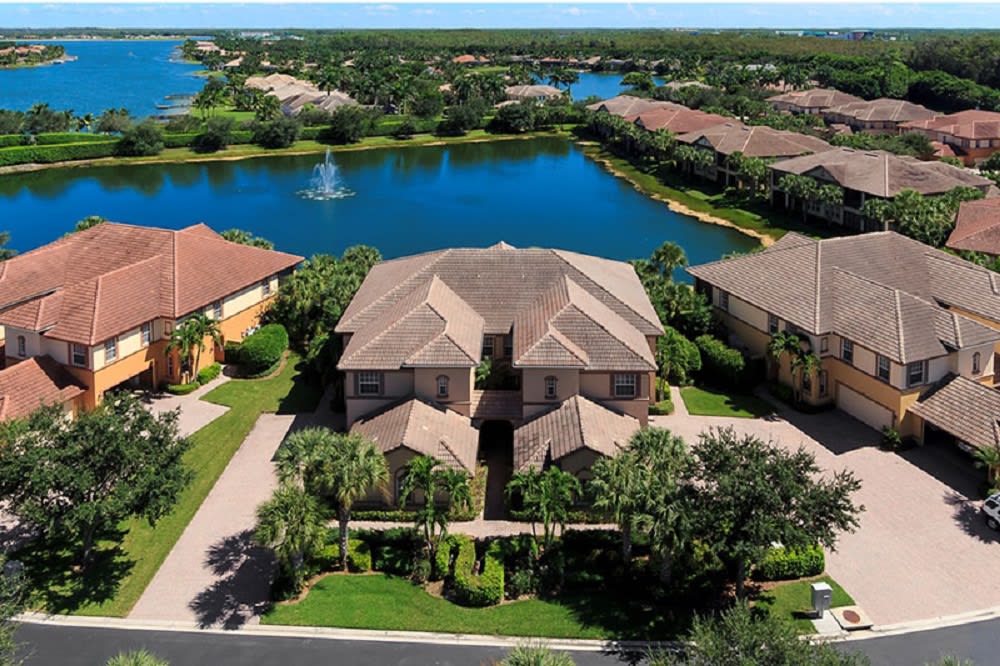 You need to make room for your growing family
One of the main reasons many people decide to up-size their home is because their family is growing. Whether your current family size has gotten too big for your current home, or you planning on having a place with space for your children or grandkids, having a larger home will accommodate whatever your situation is. With a bigger home, you'll have plenty of space to live comfortably and foster an environment where your family can grow and learn.

You want to entertain guests
Owning larger properties allows you more space to host guests, whether you're watching the grandkids for the week or throwing a dinner party for friends. Whereas with a condo, you share outdoor spaces with other residents, a spacious single-family home provides you with the privacy of your own backyard.


You want to spend more time in Miromar Lakes
We understand. Once you've lived here, it's hard to stay away. Moving into a larger home is a common solution for snowbirds who get a taste of the Florida lifestyle and want to experience it year-round.
Reasons to Downsize in Miromar Lakes

You want a hands-off property
Condos in Miromar Lakes offer a fantastic opportunity to live here without the hassle. You won't have to worry about landscaping or many *home repairs. Simply unlock the door and kick your feet up. Whether you're hunting for a vacation property you can call home for the summer or have recently retired and are living here long-term, condos with smaller footprints are a coveted alternative to single-family homes.

You're an empty-nester
If you've recently had children move out, you might find that your current floorplan is overwhelming — especially without the extra help around the house — and there are only so many creative ways to fill empty rooms. Eventually, you'll realize that you're ready to swap the extra square-footage for a property that fits just right.
Finding a property that fits your needs is a decision you will not regret, so if the signs are there and you're ready to make the change, contact real estate agents at
The Guillette Group
today for more information on homes for sale in Naples, Bonita Springs, or Estero, Florida.