With white-sand beaches, warm weather, and an abundance of activities, Fort Myers has long been a destination for vacationers, home buyers, and real estate investors. Located along Florida's Gulf Coast, Fort Myers has
seen rapid population growth
over the last decade, including an approximately 20% increase in median home prices. Together, these factors have made Fort Myers one of the best opportunities to buy and sell real estate in Florida.
Potential buyers are interested in Fort Myers for many reasons, but most tend to focus on the city's proximity to the ocean. If you're interested in Fort Myers real estate for sale, you'll want to familiarize yourself with the islands and waterways nearby and research the tremendous amount of recreation that Southwest Florida has to offer.
Below are seven island getaways accessible by boat from Fort Myers, setting the area apart from many other seaside destinations in Florida.
Cabbage Key
This secluded island getaway offers visitors a taste of the friendly hospitality and relaxation that Florida vacations are known for, without the unwanted commercialization you're likely to find elsewhere. Located approximately five miles from Pine Island, Cabbage Key is 100 acres of tropical paradise. Visitors can enjoy various activities, including fishing, boating, and strolling the island's sandy beaches. More than anything, visitors are encouraged to relax and enjoy the views of Pine Island Sound and the surrounding area.


For a quick trip, stop in and have a meal at the island's restaurant and bar. Don't forget to try the signature cocktail, The Cabbage Creeper. If you're in the mood to stay longer, you can stay at the island's inn or one of the many rental cottages available throughout the year. Whether you're stopping in for an afternoon on the beach or spending the weekend, you'll enjoy the quiet, secluded atmosphere found on Cabbage Key.
Cayo Costa State Park

Formerly known as La Costa Island or Padilla Ranch,
Cayo Costa State Park
is an excellent camping destination for boaters visiting Fort Myers. With 30 campsites and 12 cabins, campers can enjoy the pristine beach and indigenous vegetation offered by Cayo Costa State Park.
Accessible by boat, ferry, kayak, or helicopter, Cayo Costa State Park includes approximately nine miles of undeveloped shoreline, perfect for outdoor activities. Visitors often enjoy swimming, snorkeling, shelling, fishing, and birding. Additionally, there are over six miles of biking and walking trails located on the inner part of the island.
Estero Island
Home to Fort Myers Beach, Estero Island offers a great nightlife scene and is popular among spring breakers. Although connected to the mainland by a bridge, those wishing to flex their nautical skills should visit the island by boat. Accommodations on the island include rental homes, condos, and hotels. If nightlife isn't your scene, you might be interested in
Mound Key Archaeological State Park
, especially if you'd like to learn more about the indigenous history of Southwest Florida.
Useppa Island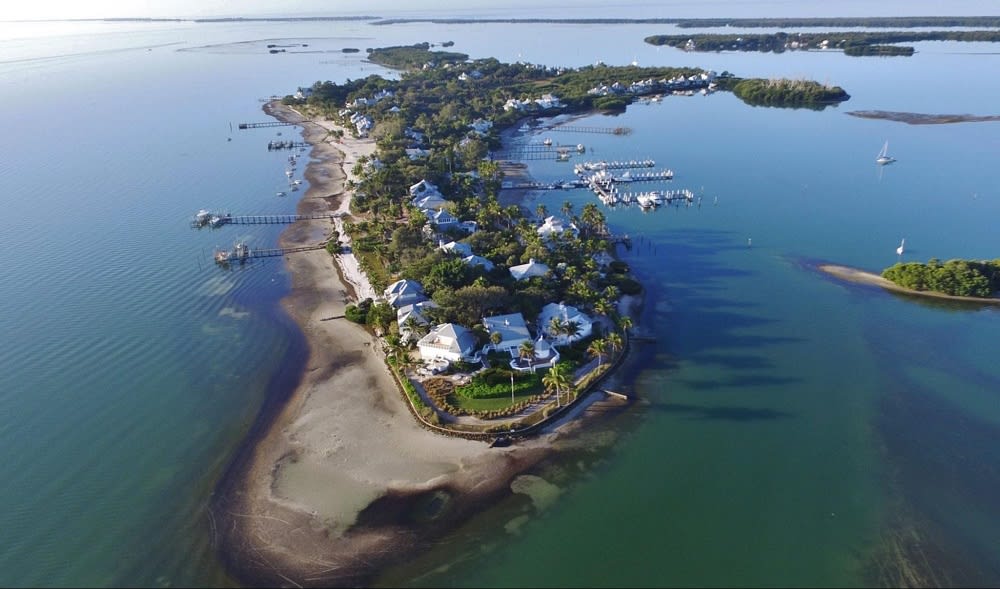 Located on the northern end of Pine Island Sound, Useppa Island is a 100-acre island home to the exclusive
Useppa Island Club
. Since reopening in 1976, boaters, seasonal residents, and international travelers have attracted the island's seclusion and solitude. Members and guests may use their own boat or reserve a taxi through the island's taxi and limo service.
Once on the island, members can stay in one of seven suites at the Collier Inn, a single-family home, or twin-family cottages. Each property offers a unique view and atmosphere, and members enjoy full access to all island facilities and club functions year-round. Like many other islands in the area, Useppa Island is accessible only by boat or air.
Picnic Island
Near the mouth of the Caloosahatchee River lies Picnic Island, a 7.4-acre island within Lee County. Picnic Island is a man-made island created by dredging the Sanibel Causeway. Although there are no docks on the island, boaters can anchor not far from the shore, and visitors are encouraged to bring water shoes. If you love shelling, wading, fishing, and picnicking, you'll want to check out Picnic Island.
North Captiva Island
Originally part of Captiva Island, North Captiva is a pristine island paradise located just off the coast of Southwest Florida. Only a short boat ride from Pine Island, North Captiva is the perfect destination for families. Visitors can book a rental through the North Captiva Island Club or Safety Harbor Club. Vacation rentals are fully equipped with anything you might need, including a boat dock, private pool and hot tub, and game room. Pet-friendly house rentals are also available.
Sanibel and Captiva Islands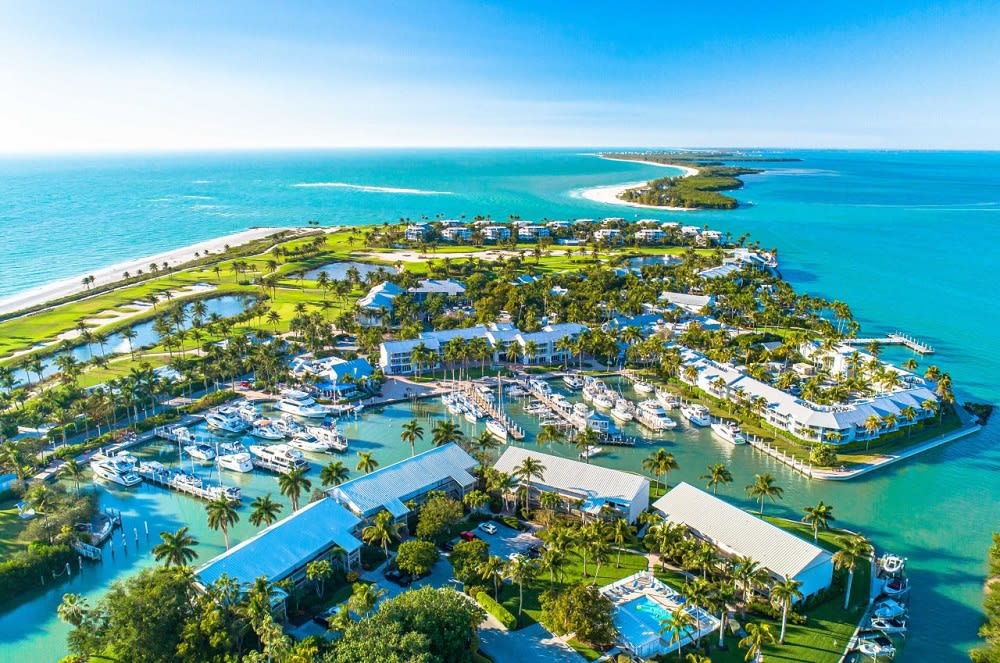 One of the most popular tourist destinations in the area, Sanibel is known for its shell beaches and wildlife sanctuaries. More than half of the island is occupied by a wildlife refuge. Sanibel is easily accessible and is one of the most unique barrier islands in the world due to its east-west orientation. Visitors can reach Captiva via a bridge, and activities on both islands include biking, kayaking, golfing, and fishing.
Unlike other secluded islands in Southwest Florida, Sanibel and Captiva offer an abundance of retail and dining opportunities—particularly on the larger Sanibel Island. Cyclists living in the Fort Myers area enjoy the islands for their numerous bike paths and bridge connections and blend of luxury amenities and nature.
Are you searching for Fort Myers homes for sale?
If you're interested in learning more about the market for homes for sale in Fort Myers—or on any of the islands nearby—reach out to
The Guillette Group
today. With deep experience and local market expertise,
The Guillette Group
will make your experience buying Fort Myers real estate rewarding and stress-free.

*Header photo courtesy of Napes Princess Cruises